This week I set out to learn how to sign some basic food and weather words. Little did I know I would learn much more than that in exploring ASL resources on the internet.
To learn food I used an app called SignSchool. This free app provides dozens of different categories to learn from. Categories range from clothing to deaf culture. I can't wait to explore the more abstract areas on this app as it will provide me with a better understanding of the language and the people who speak it. It also features a sign of the day, which encourages me to learn even on busy days when I will not have time to sit down an learn a dozen new signs in a row.
In order to learn signs for 'weather' I came across a free website called Dummies.com. It is an online extension of the famous book series "Blank for Dummies" which teaches anyone basically anything. In this case, this dummy was learning about the weather. Not only did a learn simple vocabulary, but the online article also provided sample sentences that could be used for weather vocabulary such as "It's sunny outside".
This was when I learned ASL does not follow English syntax. ASL uses fewer words and arranges words differently in a sentence.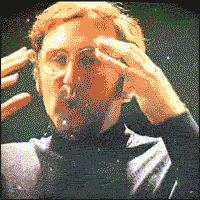 Aside from the epic mind boggle this week I managed to create this video:
Stay tuned for next week because I will be trying something a little different… possibly a challenge… possibly could go viral… Only time will tell.